ABOUT US
H
alal Global is the inspection agency that controls and certifies, both within Italy and abroad, those products that comply with Halal quality.
Halal quality certification ensures that the product follows Islamic law in all stages of production, packaging and distribution. The consumer, Muslim or not, can therefore be certain that the product, guaranteed as Halal, respects the dictates of the Shari'a.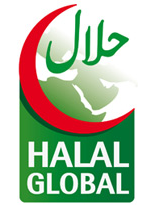 Halal Global, whose members have many years of experience in the field, is able to provide companies with this type of certification.
In an increasingly growing Halal market, concerned not only with food production, Halal quality certification allows manufacturers to guarantee that their products are Halal.
The certified company can therefore enter the Halal market, both nationally and internationally, confident that its products will be recognized as respectful of Muslim precepts.
HALAL GLOBAL A DOHA
10 - 12 november 2014
Halal Global will participate to the exhibition Brand Italy to support companies that have obtained the Halal certification.
Brand Italy is the first "Made in Italy" Trade Fair in Qatar. Culinary Art excellence, furniture and architectural design, tourist attractions: Italian style as a way of life. An itinerary that will give visitors the possibility of discovering Italy through the companies that have made "Made in Italy" a successful brand.
Brand Italy will be hosted at the Qatar National Convention Centre (QNCC).
HALAL GLOBAL A MARCA 2014
Halal Global has been present at Marca 2014, the only Italian event devoted entirely to Private Label in large-scale distribution.
Bologna wednesday 15 thursday - 16 January 2014
Hall 22 stand A72/B71.
HALAL GLOBAL A ANUGA 2013 - TASTE THE FUTURE
Halal Global has partecipated at Anuga 2013, the world's leading food fair for the retail trade and the food service and catering market.
Cologne saturday 5 - wednesday 9 October 2013
Hall 5.1 stand C040/D049.
HALAL GLOBAL AT SANA 2013 - 25th EDITION
Halal Global has partecipated at Sana 2013, international exhibition of organic and natural products.
Sana 2013: for 25 years the event of reference in Italy for organic products, natural and herbal remedies.
Bologna saturday 7- tuesday 10 September 2013
Hall 32 stand A5/C6.